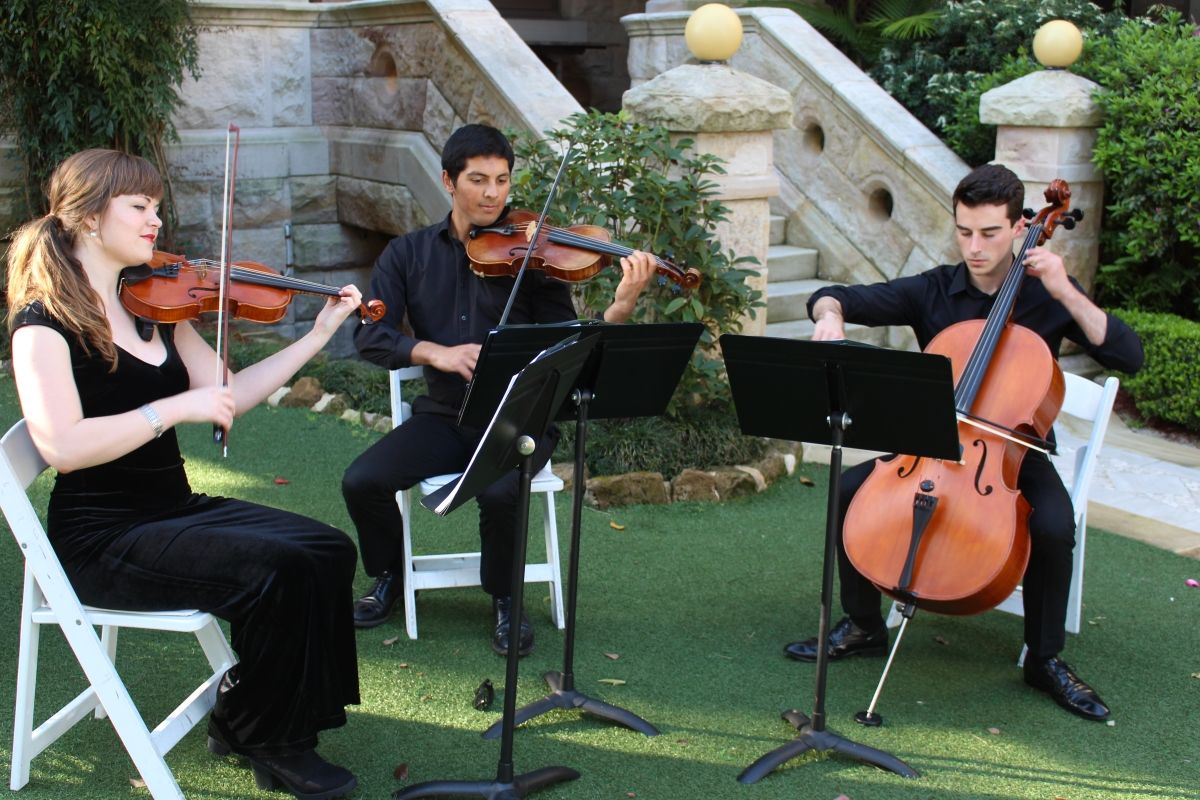 Evoke Strings are at home by the side of a wedding aisle, ballroom or the Sydney Opera House. No matter where or when, Evoke Strings deliver elegance, splendour & glamour with every performance. Boasting a dynamic repertoire from classical to contemporary hits, the Evoke Strings are simply a must for your next Corporate Function, Wedding or Event.

How we work:
The following is a typical run sheet, but we're more than happy to restructure to suit any function.
WEDDING CEREMONY:
To set the mood for your guests and keep the groom and his entourage relaxed just prior to the bride's entrance, Evoke Strings start the proceedings with a 15 minute musical introduction. Our repertoire is extensive and sure to add a sense of occasion and elegance to your special day. The ceremony typically consists of the processional, signing of the registry and the recessional. For church services you may like EVOKE STRINGS to also perform the offertory and communion.
CORPORATE:
For our corporate clientele, our Creative Events Specialists at Evoke together with our clients, craft the perfect package to wow your guests at your next event.

String Duo Song List:
Classical
Marche
Menuet in G -.1
Menuet in G -.2
Minuet and Trio K.1
Bach – Air from Suite in D
Bach – Jesu, Joy of Man's Desiring
Beethoven – Ode to Joy
Clarke – Trumpet Tune
Clarke – Trumpet Voluntary
Dvorak – Humoresque
Handel – Air from Water Music
Handel – Bourree from Water Music
Handel – Coro (Suitable)
Handel – Hornpipe in D from Water Music (Suitable)
Handel – Hornpipe in F from Water
Handel – La Paix
Handel – La Rejouissance (Suitable)
Handel – Largo from Xerxes (Suitable)
Handel – Menuet from Water Music
Handel – Rigaudon from Water Music
Hymn – Nearer My God To Thee
Mouret – Rondeau
Mozart – Eine Kleine Movement 1 (Suitable)
Pachelbel – Canon in D
Film / Musical
Game of Thrones Theme (Suitable)
Littler Mermaid – Part of your world (Suitable)
Sound of Music – Eidelweiss
Wizard of Oz – Somewhere Over the Rainbow (Suitable)
Popular
Adele – Make You Feel My Love (Suitable)
Avicii – Hey Brother
Christina Perri – A Thousand Years
Coldplay – Viva La Vida (Suitable)
Ed Sheeran – Thinking Out Loud
Jason Mraz – I'm Yours
John Legend – All of Me
Kings of Leon – Use Somebody
Leonard Cohen – Hallelujah
Louis Armstrong – What a Wonderful World
Michael Jackson – Man in the Mirror
Rihanna – S&M
The Supremes – Can't Hurry Love
Show more songs >><< Show less songs


String Trio Song List:
Classical
Bach – Air from Suite in D
Bach – Ave Maria (Suitable)
Bach – Brandenburg Concerto -.5
Bach – Gavotte
Bach – Jesu, Joy of Man's Desiring
Beethoven – Minuet
Beethoven – Ode to Joy
Beethoven – Sonatina (Suitable)
Caro – O mio babbi
Clarke – Trumpet Tune
Clarke – Trumpet Voluntary
Corelli – Concerto Grosso Adagio (Christmas Concerto)
Corelli – Concerto Grosso Allegro (Christmas Concerto)
Corelli – Concerto Grosso Allegro ii (Christmas Concerto)
Corelli – Concerto Grosso Pastorale (Christmas Concerto)
Delibes – Flower Duet
Dvorak – Humoresque
Gluck – Minuet (Suitable)
Handel – Air from Water Music
Handel – Arrival of the Queen of Sheba
Handel – Bourree from Water Music
Handel – Coro
Handel – Hornpipe in D from Water Music
Handel – Hornpipe in F from Water
Handel – La Paix
Handel – La Rejouissance
Handel – Largo from Xerxes
Handel – March in D
Handel – Menuet from Water Music
Handel – Rigaudon from Water Music
Handel – Themes from Handels Messiah
Haydn – String Quartet Op.1, -.4 (Suitable)
Hymn – Nearer My God To Thee
Iva-vici – Danube Waves
Mouret – Rondeau
Mozart – Alleluia (Suitable)
Mozart – Divertimento Nr.4
Mozart – Eine Kleine Movement 1
Mozart – Eine Kleine Movement 2
Mozart – Eine Kleine Movement 3
Mozart – Eine Kleine Movement 4
Pachelbel – Ca-n in D
Pachelbel – Gigue (Suitable)
Schubert – Andante
Schubert – Ave Maria (Suitable)
Schubert – Minuet and Trio (Suitable)
Vivaldi – Spring from the Four Seasons
Almost like being in love
Folk / Jazz
Traditional – Brown Jug Set
Cole Porter – Night and Day
Musical
Beauty and the Beast – Belle
Fiddler on the Roof – If I were a rich man (Suitable)
Fiddler on the Roof – Matchmaker (Suitable)
Fiddler on the Roof – Sunrise Sunset (Suitable)
Fiddler on the Roof – Tradition (Suitable)
Sound of Music – Favourite Things + Incidental Music
West Side Story – America
Wizard of Oz – Somewhere Over the Rainbow
Popular
Adele – Make You Feel My Love
Beatles – All You Need is Love (Suitable)
Beatles – When I'm Sixty Four (Suitable)
Brendan Graham – You Raise Me Up (Suitable)
Christina Perri – A Thousand Years
Coldplay – Viva La Vida
Duck Sauce – Barbara Streisand
Ed Sheeran – Thinking Out Loud
From the Mission – Gabriel's Oboe
Jason Mraz – I'm Yours
John Legend – All of Me
Kings of Leon – Use Somebody (Suitable)
Leonard Cohen – Hallelujah
Mario – Underwater Theme from Mario
Michael Jackson – Man in the Mirror
Rhianna – S&M
Ronan Hardiman – The Lord of the Dance
Snow Patrol – Chasing Cars (Suitable)
The Supremes – Can't Hurry Love
The Verve – Bittersweet Symphony
Train – Marry Me
U2 – Beautiful Day (Suitable)
Something (Suitable)
Show more songs >><< Show less songs


String Quartet Song List:
Classical
Bach – Air from Suite in D
Bach – Ave Maria
Bach – Brandenburg Concerto -.3 Mov.1
Bach – Brandenburg Concerto -.3 Mov.2
Bach – Brandenburg Concerto -.4
Bach – Brandenburg Concerto -.5
Bach – Jesu, Joy of Man's Desiring
Beethoven – Ode to Joy
Beethoven – Sonatina
Clarke – Trumpet Tune
Clarke – Trumpet Voluntary
Corelli – Concerto Grosso Adagio (Christmas Concerto)
Corelli – Concerto Grosso Allegro (Christmas Concerto)
Corelli – Concerto Grosso Allegro ii (Christmas Concerto)
Corelli – Concerto Grosso Pastorale (Christmas Concerto)
Dvorak – Humoresque
Elena Kats-Chernin – Eliza Aria
Elgar – Nimrod from Enigma Variations
Gluck – Minuet
Handel – Air from Water Music
Handel – Arrival of the Queen of Sheba
Handel – Bourree from Water Music
Handel – Hallelujah Chorus
Handel – Hornpipe in D from Water Music
Handel – Hornpipe in F from Water
Handel – La Paix
Handel – La Rejouissance
Handel – Largo from Xerxes
Handel – March in D
Handel – Menuet from Water Music
Handel – Rigaudon from Water Music
Handel – Themes from Handels Messiah
Haydn – String Quartet Op.1, -.4
Hymn – Nearer My God To Thee
McLean – Serenata
Mouret – Rondeau
Mozart – Alleluia
Mozart – Divertimento in D Movement 1
Mozart – Divertimento in D Movement 2
Mozart – Divertimento in D Movement 3
Mozart – Eine Kleine Movement 1
Mozart – Eine Kleine Movement 2
Mozart – Eine Kleine Movement 3
Mozart – Eine Kleine Movement 4
Mozart – Marriage of Figaro Oveture
Pachelbel – Ca-n in D
Pachelbel – Gigue
Schubert – Ave Maria
Schubert – Minuet and Trio
Tchaikovsky – Sleeping Beauty Waltz
Vivaldi – Spring from the Four Seasons
Film / Folk / Jazz
Game of Thrones Theme
Godfather – The Godfather Love Theme
Ni- Rota – Theme from the God Father
Pirates of the Caribean – Curse of the Black Pearl
Pirates of the Carribean – Pirates of the Carribean Medley
Traditional – Brown Jug Set
Cole Porter – Night and Day
Musical
Beauty and the Beast – Belle
Disney – Gaston – Beauty and the Beast
Disney – Mob Song – Beauty and the Beast
Fiddler on the Roof – If I were a rich man
Fiddler on the Roof – Matchmaker
Fiddler on the Roof – Sunrise Sunset
Fiddler on the Roof – Tradition
Les Miserables – I Dreamed a Dream
Les Miserables – Master of the House
Littler Mermaid – Part of your world
Sound of Music – Eidelweiss
Sound of Music – Favourite Things + Incidental Music
West Side Story – America
Wicked – Popular from Wicked
Wizard of Oz – Somewhere Over the Rainbow
Popular
Count on Me
Something
Adele – Make You Feel My Love
Beatles – All You Need is Love
Beatles – Eleanor Rigby
Beatles – Let it Be
Beatles – When I'm Sixty Four
Black Eyed Peas – I Gotta Feeling
Brendan Graham – You Raise Me Up
Bru- Mars – Just the Way You Area
Christina Perri – A Thousand Years
Coldplay – Viva La Vida
Duck Sauce – Barbara Streisand
From the Mission – Gabriel's Oboe
Jason Mraz – I'm Yours
John Legend – All of Me
Kings of Leon – Use Somebody
Lady Gaga – Telephone
Leonard Cohen – Hallelujah
Louis Armstrong – What a Wonderful World
Mario – Underwater Theme from Mario
Michael Buble – Haven't Met You Yet
Michael Jackson – Man in the Mirror
Paramore – The only exception
Rhianna – S&M
Ronan Hardiman – The Lord of the Dance
Snow Patrol – Chasing Cars
The Fray – You Found Me
The Supremes – Can't Hurry Love
The Verve – Bittersweet Symphony
Train – Marry Me
U2 – Beautiful Day
Show more songs >>
<< Show less songs