They don't call it your big day for nothing. A lot goes into making it perfect, and having the right wedding entertainers goes a long way in making your day unforgettable.
Whether your wedding is in the heart of Sydney, the Hunter Valley, the Blue Mountains, the Southern Highlands or the outskirts of NSW we can cater for all locations. Evoke Entertainment aims not only to provide the best wedding music and wedding entertainers for the celebration, but also to help make its organisation as stress-free as possible.
From the outset, you are in capable hands as we take care of all your wedding event needs. Have a budget in mind? Let us know. We'd love nothing more than to chat and discuss your event over a coffee at a location that suits you or alternatively, please phone one of our Creative Events Specialists on 02 9580 1462 or complete the enquiry form via the button below.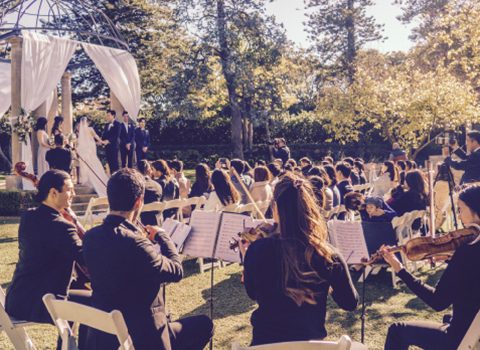 That special moment where a couple proclaim their love for one another before family and friends deserves to be set to an equally as special soundtrack. Evoke Entertainment specialise in creating these one off occasions that perfectly reflect our clients and the setting.
From church to beach ceremonies, our boutique wedding string quartets, acoustic solos, wedding entertainers, duos and trios capture the essence of every occasion with musical splendour.
Our select range of Sydney bands cover all function types and are adaptable in any venue scenario. Depending on your budget, our main acts come in 4, 5 or 6 piece formats.
The band's line-ups are unchanging, meaning that every show is a good one. And not only do they sound good, they look good, whether in formal wear, not so formal wear or whatever you decide the function's theme is. (But if we may say, they look best in a suit!)
Check out our list of bands for hire.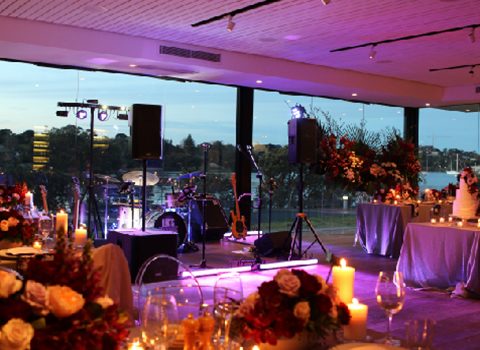 Evoke owns and operates state of the art PA systems, lighting rigs and back line.
Every band or wedding entertainment package we offer includes a set-up appropriate to the gig – whether it be a solo act performing for a beach wedding or a 6-piece rocking an auditorium dance floor.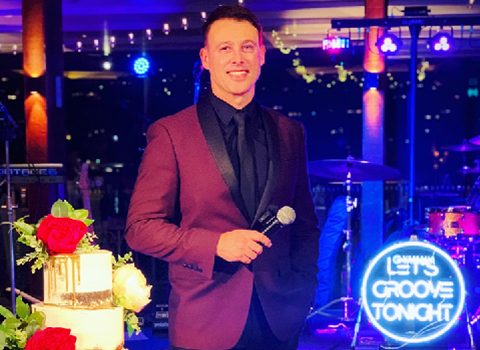 For every band or show that performs at your wedding, one member will double as on-site coordinator.
Their chief responsibility: your happiness. They will ensure the wedding band stick to schedule and act as proxy between the venue, yourself and the band.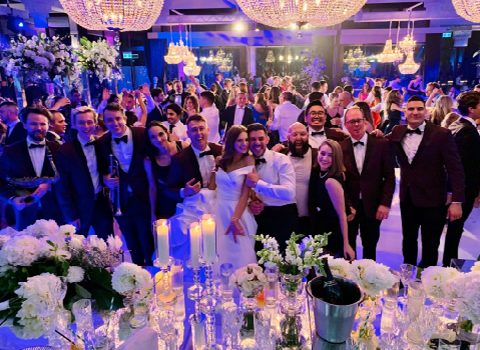 For the wedding that requires more, Evoke Entertainment offers concept shows designed to captivate your guests and provide a centrepiece to the night.
We are always developing new concepts, so if you have a specific wedding theme in mind, a special wedding entertainment idea, specific wedding reception music or even original wedding ceremony music, we'd love to help you bring it to life.
We have the talent and the resources to help make it happen.
Bespoke Wedding Entertainment Packages
Evoke Entertainment have you covered for everything you need on your big day! The best part? Your entertainment needs are bespoke and tailored to you.
From wedding entertainment, whether that's a band, entertainment act or an acoustic duo, to the DJ, wedding string quartets, trios or duos and the super important wedding MC. We can create a package to suit all budgets and needs. Please contact us for pricing or custom wedding entertainment packages.
So you've decided on the perfect wedding band and booked your favourite wedding singer, but have you organised the fireworks for that unforgettable entrance? Uplighting, to create the perfect atmosphere? What about smoke machines to take your bridal waltz to the next level?! We have a number of additional options to make your special day even more memorable, including:
Give your wedding an extra spark and light up the room with fireworks. Our Showven Sparkular fountains are breathtaking and will amaze your guests. They're safe for use as indoor fireworks for weddings and you're able to synchronised the wedding fireworks to music!
Click on one of the following packages for inclusions:
Fill the room with amazement and surprise as you take to the dance floor for your first dance floating on the clouds. Create the most amazing memories with a dry ice machine for your wedding first dance.
Click on one of the following packages for inclusions:
Wedding Venue & Atmospheric Uplighting
Create a beautiful atmosphere with uplighting and transform any room into an amazing space with ambience and character. All wedding lighting packages are fully serviced and include delivery, setup, pack down and pickup.
Click on one of the following packages for inclusions: