Wow! What a week we have just had. Evoke Entertainment and the Vo family were busy celebrating two sibling's weddings a week apart from each other. Their son Jeremy and bride Danielle at the beautiful Curzon Hall on the 8th of April followed closely by their daughter Annalise and groom Jeremy (yes! another Jeremy) wedding at the stunning Sergeants Mess on the 15th of April.

We had the absolute pleasure here at Evoke of supplying the couples with their wedding bands. Lets Groove Tonight performed at Curzon Hall, a week later Party Rock People took over the spot light at Sergeants Mess.
Curzon Hall located in Marsfield is an iconic sandstone castle set upon three acres of glorious landscaped gardens. The castle has seven versatile event rooms, Jeremy and Danielle's reception was help in Sabrina's View. With two hundred plus guests, Lets Groove Tonight played all their formality songs live throughout the evening. The highlight would have to be that special part of the night where dry ice flooded the stage as Jeremy and Danielle had their first dance as husband and wife to 'Amazed' by Lonestar. At the climax of the song fireworks shot off the bridal table in the middle of the dancefloor, and everyone was in awe. Our friends at Lightheart Films and Photography captured every intimate moment.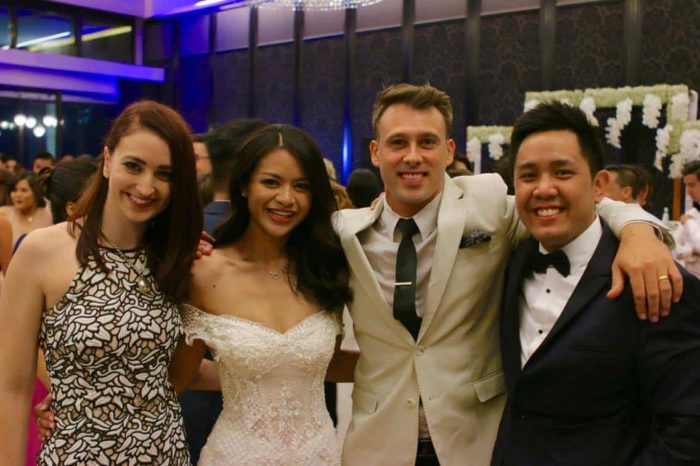 (photo: Let's Groove Tonight's singers Emma Mylott & Chris Ninni with Jeremy and Danielle)
Last Saturday whilst we were pre-occupied with our Easter eggs, Party Rock People entertained the family for another big wedding at Sergeants Mess located at Chowder Bay amidst native bushland and views of Sydney Harbour. Jeremy and Annalise's guests enjoyed the beautiful view with a drink in hand out on the balcony listening to the sweet sounds of a saxophone. The couple had their very own fireworks display out in the middle of the water and Annalise performed a special song for her new husband later that evening. Splendid Photography did an amazing job of capturing the memories of the big day.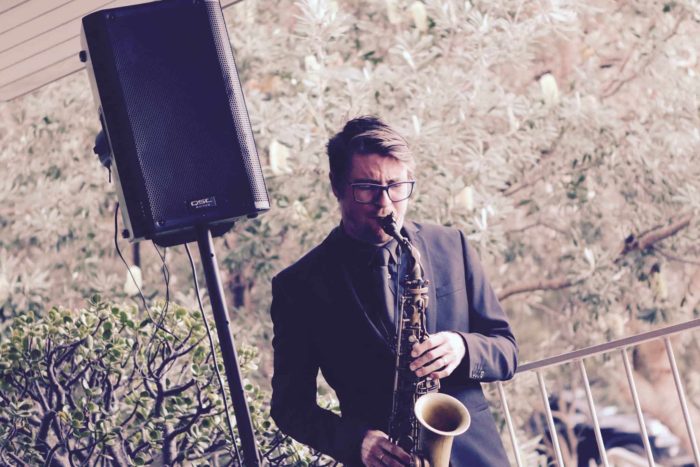 (Photo: Jimmy on Sax at Sergeants Mess for Jeremy and Annalise)
Congratulations and all the best for the future, thank you so much for choosing Evoke Entertainment 🙂
Corporate Band, Curzon Hall, Entertainment, Sergeants Mess, Singers, Sydney Harbour Weddings, Wedding, Wedding Ceremony, Wedding Ceremony Music, Wedding Reception, Wedding Reception Venues Sydney, Wedding Venues Sydney